Return to Topical Archaeology Page
Fort McIntosh
As no plan of Fort McIntosh exists, an accurate reconstruction is impossible, but mutually supportive descriptions in contemporary letters and journals provide some clues. The same men under the same French engineer, Le Chevalier de Cambray, built a second fort in Ohio two months later, the outlines of which have been found by historical archeologists, and it is presumed that the two forts were similar in design, although McIntosh is recorded as being somewhat larger.
Based on this information local archeologists, with the assistance of the University of Pittsburgh and the Section of Man of the Carnegie Museum, had located by the summer of 1975 structural evidences of the west and south walls which lie within the park. At least sixty percent of the Fort is under River Road and the houses fronting on it.
Unlike typical frontier forts, McIntosh was constructed of well hewn (squared) log structures set in an irregular square with the longest side being toward the river. The outside walls of the buildings, with bastions at each corner, each mounting a cannon, and a blockhouse at the right of the main gate, opposite the river, provided defense against musketry.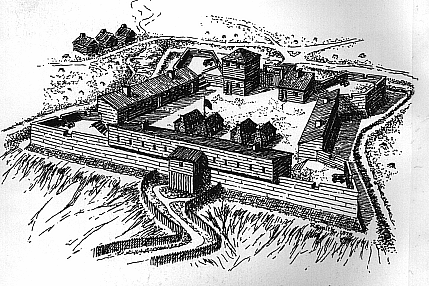 Fort McIntosh was the first fort built by the Continental Army north of the Ohio River, a direct challenge to the British stronghold at Detroit. It was the headquarters of the largest army to serve west of the Alleghenies, the site of the treaty which signaled the enactment of landmark legislation, opening the northwest and all future territories of the United States to orderly pre-surveyed settlement. In 1784-1785 it was the first base, except for two small detachments at West Point and Fort Pitt, of the entire army of the United States. This drawing is based on a compilation of historical references and writings of the period, and is believed to be a reasonably accurate representation of the fort as it appeared in 1778.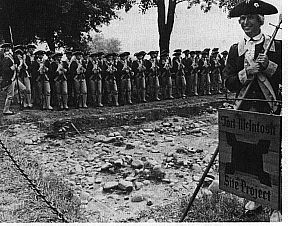 A historic moment occurred on August 1st, 1975 when this company of the 3rd Infantry Regiment - oldest regular unit in the U. S. Army - posed for this picture beside the excavations of their first headquarters at Fort McIntosh.